Artificial Tees - OPEN   Grass Tees - CLOSED
Fall Hours  Mon-Sat 9-7 Sun 11-5
Artificial Tees  OPEN   Grass Tees CLOSED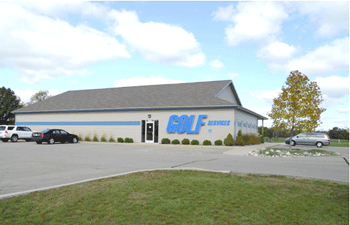 ABOUT US
Since 1984 Golf Services has been providing all the services every golfer needs. From equipment to lessons and from repairs to a driving range, you'll find it all at Golf Services. Our Pro Shop carries brands you can rely on for quality. Our staff will ensure that the fit is perfect. We understand a golfer's attachment to a set of clubs, so we offer repair and regripping services. And whether you're new to golf or a seasoned golfer seeking to perfect your swing, you'll find the level of instruction that meets your need.
For over 30 years, Golf Services has provided a comprehensive experience for golfers to enjoy. Our mission is to provide outstanding customer service in a complete array of golf services. That's why we're a PGA member, Certified Fitting Center, and the Top Fitter for PING in Southwest Michigan since 2012.
We Are GOLF SERVICES.....      It's all in our name.